Let us cheer about it guys, one of the best kids singing reality show is back for business. YES! The sub series of Sa Re Ga Ma Pa's franchise L'il Champs is set to premiere in 2020. Currently, the show is looking for young talented kids to compete in the show. And the SRGMP Li'l Champs Audition are on. So apply for the show, who knows your kid will be the next little champ.
The show is like other singing reality show where participants compete with each other for the crown of winner. The show cast some of the major singing talents. They surely are kids but with a ton of talent. Their performance is mesmerizing and they make sure to win the hearts of the audience.
If you or your kid or anyone you know has such talent then you can convey this message. The show is looking is casting such talent. This could be the opportunity to shine in music industry. This could lead the participant to establish a good foundation for his singing career.
You just need to scroll down and read all the necessary information you need to know about the upcoming auditions.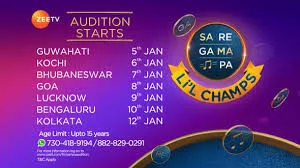 SRGMP L'il Champs Audition 2020
Do you want to make your kid India's next singing sensation? So you are on the right platform. All you need to do is to apply for upcoming season's auditions. Audition will be done in 2 ways.
In online auditions you need to register yourself and submit your form online. If your form get selected then you need to come for an offline audition i.e. in particular described venue. 
This is going to be 8th edition of SRGMP Little champs. So Let's discuss SRGMP Li'l Champs Audition for season 8 in detail
Little Champs Casting Eligibility Criteria
Before you try to apply for the show you must read all the necessary terms and conditions of the show. These eligibility criteria is given by the casting team of the show, which states that-
Participant must be of Indian Citizenship.
Participant must be upto 15 years of age on 1 Jan 2020.

The applicant should not be charged with any criminal records.

Parents or guardian should fill the application form on behalf of the contestant.

Contestant must bear its own expenses during auditions.

Parents or legal guardian must accompany the participant.
You can read all given terms and condition in the application form.
Sa Re Ga Ma Pa Li'l champs Online Application Form 2020
You can follow these simple steps to apply online for the auditions of the show. Before that, you must have to accept and fulfil all the terms and condition given by the show. Then you can continue with these steps-
Go to the official Zee TV Or you can simply follow this audition webpage i.e. [ https://zeetv.zee5.com/saregamapa-lil-champs/ ]

Then provide the YouTube link of the applicant's performance or you can upload the audition video.

Finally, submit the application form.
If the applicant gets shortlisted then you will be receiving a notice form the casting team of the show.
Sa Re Ga Ma Pa Little Champs Whatsapp Auditions 2020
For the first time in the history there is an option of whatsapp auditions. Now You can also give your audition on whatsapp. Simply follow these steps.
First of all you must have whatsapp account.

Make a audition video of your kid while singing.

Send it to official numbers.

7304189194 and 8828290291 are the whatsapp numbers on which you can send the audition videos.
Points To Remember:
You audition video must be of maximum 50MB.
Format of the video must be mp4 or avi or mov.
Direct Entry To Lil Champs Mega Auditions
Another new way to get SRGMP Lil chmaps Audition done is on Tik Tok. Isn't it amazing! This is the chance that your kid can get direct entry to Mega Auditions. Simply follow these steps.
First of all you should have Tik Tok app installed on your smartphone.

You need to shoot a video of your kid which will be in jugalbandi format.

Now you have to use a hashtag i.e. #srgmplilchamspaudition and have to upload that video on your tik tok.
Don not forget to tag @zeetv_official_ on your tik tok uploaded video.

Among all the enteries top 5 contestants will et cahnce to be in direct in mega auditions.
Little Champs Offline Audition 2020
If you don't want to participate online then do not worry we will tell you offline medium to give your auditions. In this offline auditions you have to meet the casting team and have to perform in person.
Before you choose this option remember the casting terms and conditions of the show. You will need all the necessary legal documents to provide age proof, residence proof and citizenship proof.
Finally, you have to visit the open call locations to give your auditions. If you get selected they will notify you.
Also, Check
SRGMP Little Champs Audition Date and Venue
You can opt any one of these locations to give your auditions in person. You just need to visit one of the locations at given time and date with all the required documents.
City

Date

Guwahati

 

Nerim Group Of Institution

Padma Nath Sarmah Bhawan, Tripura Rd, Joyanagar Khanapara, Guwahati Assam

5 January 2020

Kochi

 

The Mermaid Hotel

Mermaid Complex Kaniyampuzha Road, Vyttila

6 January 2020

Bhubaneswar

 

KIIT University, Convention Centre, Campus 6, Patia, Bhubaneswar, Odisha

7 January 2020

Goa

 

Don Bosco Oratory, Goa, MG Road, Nr. Municipal Market, Panjim, Goa 403001

8 January 2020

Lucknow

 

Chiranjiv Bharti School, Lucknow

Ashiyana Colony Sector M, Ashiyana, Lucknow, Uttar Pradesh

9 January 2020

Bengaluru

10 January 2020

Kolkata

12 January 2020

Chandigrah

15 January 2020

Indore

16 January 2020

Jaipur

17 January 2020

Delhi

19 January 2020

Nagpur

23 January 2020

Mumbai

25 January 2020
Remaining Venues will be updated here soon
Frequently Asked Questions
Where can you check the location details of open call cities?
You can check the exact location given in the official casting website.
What documents you can carry as proof?
You can carry Aadhar card, license, passport, participant's school ID card etc.
What is the time of Auditions?
The gates will open at 9 AM and will be having deadline till 5 PM.
What is the last date to apply online?
The closing date is been not mentioned in the application form. So you just fill the form as soon as possible.
How much should be the size of uploaded video?
You have to maintain your size of video under 50 MB.
So this Was all about SRGMP Li'l Champs Audition 2020. In case of query you can ask us and can also follow us on faceook for latest updates of reality shows.