On 22nd February 2020 there will be 5th Dance Plus Winner. One of the Best dancing Reality show Dance Plus is about to conclude.  So are you ready for the blockbuster finale of the season? Here we go!
This time Dance Plus has something new flavor throughout the season. And yet again in the finale there is going to be something new, something different. Remo D'souza has announced that there will be blockbuster Finale. 20% will be the surprise which will be disclosed on the day of finale itself.
The even released a hashtag for the finale of the show i.e. #DancePlus5BlockbusterFinale. So I assume it is going to be blockbuster. 
Dance Plus Winner 2020
There are Top 4 artists that are going to perform in the blockbuster finale and among these 4 artists there will be one winner. The only way to make someone win the title is by Dance Plus Voting them to the top. 
Till now there are 4 winners from 4 seasons. It is going to be the 5th winner of Dance Plus. Let's Talk in detail about winners of every season in the show since the show started.
And the Winner Is: 
Rupesh Bane Dance Plus 5 Winner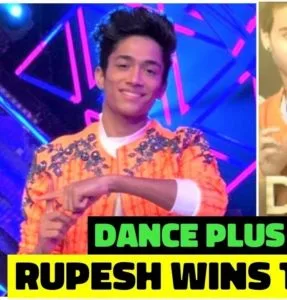 Finally Rupesh Bane from Dharmesh's team won the season 5 of dance plus. As a prize money he got 15 Lakh Rupees cheque from guest- Mithun Chakkrobarty. And 1st runner up is Janam Crew. 
Again in this season Dharmesh has showcase his talent. He also gets trophy from Mithun da. 
Dance Plus Season 1 Winner
It was 2015 when the first ever winner of Dance Plus was declared. Remo D'souza introduced the show with 3 new judges.
In the first season the winner was

V Company.

Which has now also represented India in America's Got Talent in 2019.

It was a group of bunch of people. And was the winner from team Dharmesh.

V company is famous for their hip hop style.

They got

25 Lakh

Rs as winning amount and a

Maruti Suzuki Alto.



Dance Plus Season 2 Winner
Tanay Malhara

was the winner of Season 2.

He too was from the Team Dharmesh.

Tanay Flied solo as artist.

He is famous for his Contemporary Dance form.

He got 25 lakhs as winning prize amount and a Maruti Suzuki Alto.
You May also want to see: Super Dancer 4 Auditions
Dance Plus Season 3 Winner
Bir Radha Sherpa

was the winner in Season 3.

He was from Team Punit Pathak.

He was Also introduced as mentor in DID Li'l Masters.

Bir was famous for B-Boying Dance Form.

He got 1 Lakh Rupees Amazon voucher, Hyundai Elite i20, smartphone of Oppo, and a Bike.
Dance Plus Season 4 Winner
Chetan Salunkhe

was declared as Dance + 4 Winner.

He was in Team Punit.

Chetan was the solo contestant.

As a Prize amount he recieved is 25 Lakh Rupees.
Dance Plus 5 Winner & Runner Up
On 22nd February there will be the declaration of season 5 winner too. Winner will get 25 Lakh Rs as Prize money and a tophy obviously. But as mentioned abouve this time there is going to be some sort of surprise. which will be disclosed on day of finale only.
Here is teh List of Top 4 contestants which will compete for the title.
Deepika Rupesh

From Team Karishma.

Rupesh Bane

From Team Dharmesh.

Janam Crew

From Team Punit.

Subrato And Sanchita

from Team Punit.
Winner of Dance + 5 will be updated here soon.
The show has really gained good TRP in the charts this time. Finale episode will be shown on 22nd Feb,2020 and we will get the Winner, 1st Runner Up, 2nd Runner Up on that day. So just be with us to get the finale results. Let us see who lift the finale trophy this time. Among 4 contestants of the show only 1 will win the show and will win the trophy too. And that too will be decided by the audience.  
Till now this is all from our side. And Audience Voting Polls will decide the fate of contestants. So just stay tuned here for the Dance Plus winner name of the season 5.