India's best reality talent show is back. Yes, you may have found it out that India's Got Talent Auditions is ready for its edition in 2023. The show has hosted a lot of rising talents through its medium. Now, the show is looking again for contestants to show their talents on the stage of national television. The new era of entertainment begins on 27 June 2009. And now this show is going to air its 10th season. 
The show follows various talented participants who perform their skills in the show. With every performance, they are scored. And top contestants move forward to perform again and again to continue their journey in the show. The best thing about this show is that it hosts all kinds of skill sets.
From dancing, singing, showing magic tricks you can perform any sort of skits you have prepared. Maybe you can win the grand prize of the show. Auditions are now open for new season. All Singles, doubles, trio, groups can apply online or for ground auditions.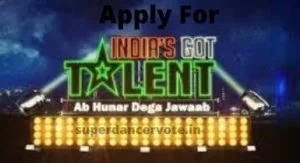 India's Got Talent Auditions 2023
Officials have announced season 10 of this show now. Therefore If you think you possess any sort of skill that can help you to entertain the audience then this is your chance to shine. The audition will be in various steps.
Firstly, you have to fill out the application form to get registered.

After being selected by your form,

you will be called for stage auditions.
These will be the

open auditions

, done by the production crew.
At last, there will be a

main stage audition

where judges select some top contestants for further competition.
You can read all the details you need to know for this upcoming show. Just Scroll down!!
You May also like: Bigg Boss 17 Audition
Apply for India's Got Talent 10 on Sonyliv App
The process for applying for the upcoming season is quite simple. You just have to fill out the application form and upload your photographs and video. You can follow the simple steps given below to fill out your form.
Firstly, download or update the sonyliv app.

Thereafter, click on India's got talent auditions.
You will see a terms and conditions page. Move forward by checking all in.
Now you will be asked to choose the language.
Now go to the online registration form.

Afterward, an application form will appear on the screen. 
Then you have to fill in all the

details

required in the form.
Then you will be asked for your talent type from a list.
After giving out the details of your talents and desired audition venue, you will be asked to record your audition online.
Now you have to upload your latest photograph.
Finally, upload your performance video and
At last, submit the application form.
You have done all the work. Now relax and wait for the casting call from the team. If you get selected you will be called by the casting team of the show.
Note- You have to make your performance video as per the guidelines given in the application form.
Tips to Record a Perfect Audition Video for India's Got Talent 10
You can upload 2 auditions videos.

Make sure your video is made in proper lighting.

If you are a group then it is important that every single member of the group is visible properly.

The Internet connection should be good.

Each audition video must be in between 90 seconds and 180 seconds. 
IGT Registration 2023
You can also register yourself for the auditions of the show. However, with this medium of casting, you have to perform in person for your selection. The following are the requisites for online registration.
In order to apply for auditions you need to register yourself first.

You can register yourself either on the Sonyliv app or the website.

All you need to do is log in/ signup with your email.

And at last fill out the registration form.
In this method of casting you have to travel to the venues provided by the show for your auditions. Before you visit the casting venue make sure to register yourself.
Just visit the official sonyliv website and register with your account. Now select the date and venue for your auditions. Then, at last, you have to travel to the venue to perform in front of the judges.
You can select any date and venue for your auditions given below.
IGT Audition Date and Venue 2023
The show has allotted a number of places that a contestant can choose for its auditions. But make sure to carry all the necessary documents for the auditions.

The dates and venues are as follows-
| City | Date | Venue |
| --- | --- | --- |
| Mumbai | TBA | TBA |
| Dlehi | TBA | TBA |
| Kolkata | TBA | TBA |
| Lucknow | TBA | TBA |
| Amritsar | TBA | TBA |
These cities and dates are not officially announced by the authority of the show. However, you can expect these cities can be triggered for the auditions. Officials will announce the audition venue and time soon. Till then be prepared for your auditions. Maybe you are the one who will win the title for season 10. You won't know unless you try. So, so pull up your socks and be ready for the show.
You May Also Like: Apply for Kaun Banega Crorepati 2023 Registration Season 15
Conclusion
In conclusion, we can say that IGT 10 brings new joy to the talent of India. Now it is time for you to shine on this biggest stage of the nation. Show makers have announced season 10. But they have decided on the start date of the show yet. Also, Indias Got Talent Registration form 2023 isn't open yet. But soon they will release the application form for the IGT 10. 
Also now you know the drill. How to fill out the application form and register for the show. Moreover, we have given you the details of how to audition for season 10. So, now you just have to wait for the next announcement. Till then just practice and master your skills. 
We wish you the best of luck!!
Frequently Asked Questions
What is the IGT 2023 Audition Last Date?
The audition portal is not opened yet. But soon they will announce the audition start date and last date.
What is India's Got Talent Season 10 Start Date?
Show makers haven't decided on the IGT 10 release date yet.
Where can I find Registration Form for season 10?
Who are India's Got Talent 2023 judges?
Judges' names for season 10 are to be announced yet.
What documents are needed for the auditions?
You can carry any legal document which can prove your identity, residence, and nationality.
Can the audience vote for the show?
Yes, in semis and finals, the audience can vote.
How long should be the performance video?
It should be less than 3 minutes.