Ghar Ghar Singer Entry Form, Auditions for Ghar Ghar Singer Zee Tv, Ghar Ghar Singer Audition Registration Online.
Zee TV is bringing you all new singing realities show "Ghar Ghar Singer". It is a first every virtual singing reality show. Ghar Ghar Singer Auditions for new virtual singer has been started. For all those people who sings quite well and want to try their talent, this is your time to shine. The show is looking for eligible people to take part in their show.
The best thing about the show is that you have to participate virtually. So you don't have to worry about going outside of your house to participate in the show. All you have to do is record your performance for them.
If you are interested to take part in this how then you can apply for the auditions. You can scroll down to read all the important information you need to know before you apply.
Ghar Ghar Singer Auditions Dates
Though these auditions are online still you have to apply in the particular time set by the casting team. Moreover, you won't require much time to fill your application. You have to make sure you prepare your performance video before filling your application form.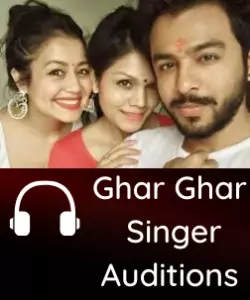 The producers want the show to work quickly to entertain you so the audition dates are set according to it. The audition starts from the 4th of May, 2020 to 11th of May, 2020. Moreover, there is a particular time given to submit your form i.e. from 07:00 IST to 23:59 IST both start and the last day included.
So you make sure you fill your application in time.
Eligibility for Ghar Ghar Singer Online Audition
To apply for the GharGhar Singer Auditions you have to make sure you are eligible for the show. These eligibility rules are set by the casting team and if you cannot fulfill these rules then you cannot apply for the show. Some of these rules are-
You have to be a citizen or a

resident of India.

There is

no specific age

limit to apply.
You should not be having any criminal record.
For participation good

mental and physical health

is required.
Solo participation is allowed.
You can read all the other rules given in the application form.
If you are eligible to participate then you just have to fill your application form and attach your performance video as a part of your auditions.

Ghar Ghar Singer 2020 Online Registration Form
Here are the steps you can follow to fill your application form.
First of all, you have to visit the official casting website of the show. 
You will find an Entry Form or Application Form through this link.
You have to fill all the mandatory information required in the entry form.

Then you have to attach the link of your video or upload your video in the form.

If you agree with all the terms and conditions of the show then submit the form.
If you get selected you will be contacted by the casting team of the show.
Audition Venue for Ghar Ghar Singer
As we have told you earlier this show's setup is completely virtual. So you don't have to go outside of your house for your own safety. This show is organized in a manner that people can enjoy and participate with all the lockdown laws of the government that can be followed altogether.
So there is no venue for your auditions you just have to make your video and submit it.
Frequently Asked Questions
How to make your performance video?
There is no particular guideline to make your video. You just have to make sure your video is below 50 MB in size.
Who is going to be on the judging panel?
Current reports are suggesting that Tony Kakkar and Neha Kakkar are the judges of the show.
When the show is going to release?
No information is out regarding the release date.
NRIs can also participate in the show?
Yes NRI can also participate. For participation, you have to provide all the legal documents required.