What a great show has Super Dancer been! The show started in the year 2016 and witnessing its 3rd season this year. One of the highest TRP getting show in India. Here we will talk about Super Dancer Winner, after all its all about winning the competition.
The winner is always praised and rewarded by the show makers.
In the last 2 seasons, the winner has been decided by the audience. Yes, the audience is the judge of the show. The contestant who will succeed in impressing the maximum number of audience will win the show.
Few Things to know about Super Dancer Winner
Guys, it is not about only winning the title only. The one who wins the show also gets work in the TV Industry. Already there had been some examples of it. Now lets us talk about the winners of Super Dancer all chapters one by one.
Super Dancer Chapter 1 Winner: Ditya Bhande
The first season of Super Dancer was superb as there were very talented contestants in the show. But Ditya Bhande won the show with her ultimate dance moves and skills.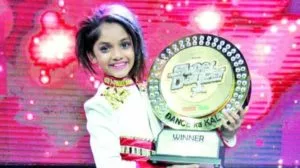 After winning the show she worked as a child artist in a Tamil movie Lakshmi. For which she won the best child artist award too.
Super Dancer chapter 2 Winner: Bishal Sharma
Bishal participated in season 1 also but couldn't make it up to the top 16. But in season 2 his simplicity and his dance touched the public. And made him the ultimate winner of Super Dancer 2.
Super Dancer Chapter 3 Winner
Super Dancer has completed 2 successful seasons. And season 3 is going on. Soon there will be the finale of season 3. Undoubtedly we can say that it is the most famous and successful season so far. TRP ratings are also amazing. What makes the show famous is the dance moves of participants and the dancers themselves.
All the contestants are so amazing that we cannot predict the winner of this season. Whether we talk about Tejas or we talk about Gaurav. Whether it's about Rupsa or about Anwesha. Now it all depends on public voting and choices. You can check here about Voting Procedure.
Super Dancer 3 Finalist and Result
The grand finale date is not yet announced. but for sure it's going to be grand. If you want to know about the final result then you have to wait for a little. Because the voting system has been started from 4th May 2019. Result of the finale will take some time to be announced.
The finale will be in between Top 5 contestants. At present, there are 11 candidates who are fighting for the title. According to our prediction, the finalist of chapter 3 can be:
Tejas Varma

Akshit Bhandari

Jay Chauhan

Rupsa

Saksham
Super Dancer Winner for chapter 3 can be among these finalist contestants. Mention those who can be in finale according to you.
Stay tuned with us.